Iroha Karuta (いろは かるた) is a card game.
It is played with the yuujo in the brothels.
A kamuro reads famous sayings or starts to poems; find the appropriate card that matches the first syllable of the poem.
Select the appropriate card before the yuujo does.
Play until one player has the number of points necessary to win. That number varies from yuujo to yuujo.
When a player only has one point left to go, the kamuro will say so. Then, get the next point, and you win!
Instructions via ThePatrick on gamefaqs
How to beat the game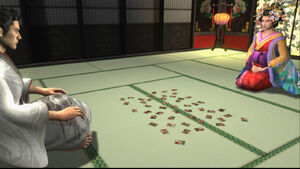 This game is notoriously difficult, even more so for non-Japanese speakers. User: Obsessive compulsive has kindly screen captured the cards into a handy image. The images have been formatted in a couple of ways to help different people in different ways:-
Single image - format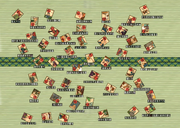 How to use it:
Click on the image to the right and then click on "See full sized image" to see it in close up. The come back to these instructions.
In the game try and remember the first Kanji shown.
Hit SELECT to pause the game.
Look at the image to try and find the card. The cards are placed in a different order each time so this image is just a guide.
Go back into the game and try and find the card.
Remember, each time the game is played the cards are placed in a different order and that this image is just to help you find the card.
Length of poem in characters - format
As the kamuro is saying out the phrase count the characters at the bottom of the screen as they appear. Try and remember at least one of the characters for reference, but don't worry if you can't.
At the end of the phrase quickly press pause with either SELECT or START.
Go down the list below to find the phrases with the same amount of characters as you counted.

See if you can identify the phrase, if so remember the associated card.
If you can't identify the phrase at least you should have all the card options in front of you. So quickly Unpause (Press O), look at the phrase on screen again and try to remember some characters, then quickly Repause the game (SELECT / START). Check the list for the associated card.

When you have the card and remembered it, Unpause the game (Press O) and try and find the card before the yuujo. Press O to swipe it when the cursor is over it.
No. of chars

Phrase

(ordered by

number of characters)

Card / Kana
Phrase
3

Nu

糠に釘

Nukanikugi

"Having no effect;  waste of effort"

4

E

縁と月日

Entotsukihi

Part of 縁と月日の末を待て

Entotsukihinosuewomate

"Month and the edge."

Don't try and force things, wait for things to come naturally.

4

O

鬼に金棒

Oninikanabou

"Making a strong person even stronger (like giving a metal rod to an ogre);  as strong as can be."

4

Ne

猫に小判

Nekonikoban

Gold after the cat. "(To cast) pearls before swine;  really big waste of resources."

4

Mu

無芸大食

Mugeitaishoku

"Lacking the talent to do anything but eat."

4

Ya

闇に鉄砲

Yaminiteppou

Firing in the dark.

4

Yu

油断大敵

Yudantaiteki

"Unpreparedness is one's greatest enemy;  He that is too secure is not safe."

4

Wo / O

鬼も十八

Part of 鬼も十八番茶も出花

Onimojuuhachibanchamodebana

"Just as even coarse tea tastes good when fresh, even homely girls look beautiful at the peak of their youth"

5

U

氏より育ち

Ujiyorisodachi

"Birth is much, but breeding is more."

5

Sa

竿の先に鈴 / 竿の先の鈴

Saanosakinosuzu

On the end of a pole, a bell

People with big mouths make a lot of noise.

5

Shi

知らぬが仏

Shiranugahotoke

"Ignorance is bliss"

5

Ta

立て板に水

Tateitanimizu

"Fluency;  volubility."

5

Te

寺から里へ

Terakarasatohe

"To the village from the temple." To put things the wrong way round, like, put the cart before the horse.

5

Ha

花より団子

Hanayoridango

"Dumplings rather than flowers;  people are more interested in the practical over the aesthetic"

5

Hi

瓢箪から駒

Hyoutankarakoma

"A horse comes from a gourd; something very unexpected;  something said as a joke actually happening"

5

Ro

論より証拠

Ron'yorishouko

"The proof of the pudding is in the eating (lit: evidence is better than debate.)"

6

Ke / Ge

芸は身を助く

Geihamiwotasuku

"Art brings bread."

6

Na

泣きっ面に蜂

Nakittsuranihachi

"It rains, but it pours; misfortunes seldom come alone."

6

Ni

二階から目薬

Nikai kara megusuri

Applying eyedrops from the 2nd floor.

"Something that cannot be done no matter how hard one tries (and is slightly frustrating because of this)"

6

He

下手の長談義

Hetanonagadangi

It is unskillful to give a long-winded speech.

"Brevity is the soul of wit."

6

Ho

仏の顔も三度

Hotokenokaomosando

To stare at the face of Buddha thrice.

"To try the patience of a saint."

6

Ma

負けるが勝ち

Makerugakachi

"To lose is to win"

6

Mi

身から出た錆

Mikaradetasabi

"Paying for one's mistakes;  getting one's just deserts;  suffering the consequences (of one's own actions);  reap what you sow."

6

Me

目の上のこぶ

Menouenokobu

A bump above the eyes.

"A thorn in one's side;  a pain in the butt (often someone higher in rank, ability, etc.);  nuisance;  something in the way."

7

Ka

かえるの面に水

Kaerunotsuranimizu

"Water on a frog's face; like water off a duck's back. Can mean something that somebody finds effortless or that something does not effect a person, they are oblivious or impervious"

7

Tsu

爪に火をともす

Tsumenihiwotomosu

"To light one's fingernail (instead of a candle). To lead a stingy life;  to scrimp and save;  to pinch pennies."

7

To

年寄りの冷や水

Toshiyorinohiyamizu

Old person drinking cool water.

Doing things that are not characteristic of one's age.

7

No

ノミ)と言えば槌

Nomitoiebatsuchi

I was told to bring the chisel not the mallet. If you need a chisel it stands to reason you need a mallet. Be attentive.

7

Mo

桃栗三年柿八年

Momokurisannenkakihachinen

"Planted peach and chestnut seeds take three years to bear fruit, persimmons take eight. It often takes time to bear the fruit of one's actions."

7

Ri

律義者の子沢山

Richigimononokodakusan

Honest people have many children. A person that has time to have so many children can't be a philanderer!

7

We / E

縁の下の力持ち

Ennoshitanochikaramochi

Under the floorboards is a strong man.

"Unsung hero;  person who does a thankless task."

7

N

京の夢大阪の夢

Kyounoyumeoosakanoyume

Dream of Kyoto dream of Osaka

8

A

頭隠して尻隠さず

Atamakakushiteshirikakusazu

"Don't cover your head and leave your bottom exposed;  you have to be careful not to expose your weak point while attempting to protect yourself."

8

Yo

夜目遠目笠のうち

Yometoomekasanouchi

"Expression used to depict a woman who is attractive primarily when it's dark out, she's far away, or her face is partially hidden by a bamboo hat."

8

Ru

類をもって集まる / 類を以て集まる

Ruiwomotteatsumaru


Birds of a feather flock together.

8

Wa

笑う門には福来る

Waraukadonihafukukitaru

"Good fortune and happiness will come to the home of those who smile."

8

Wi / I

鰯の頭も信心から

Iwashinoatamamoshinjinkara

Even a sardine head by virtue of faith. If you have faith then even inconsequential things can help.

People would put fish heads in front of their houses in the hope that the smell would ward off demons. The phrase is used earnestly by some and by others to mock people.

9

Ki

聞いて極楽見て地獄

Kiitegokurakumitejigoku

"A paradise on hearsay, a hell at sight."

9

Ku

臭い物に蓋をする

くさいものにふたをする

Kusaimononifutawwosuru.

Put a lid on things that smell. Cover up the bad things that people do. Also meant to apply things that are inappropriate, such as a bandaid/plaster on a broken leg.

9

Ko

これにこりよ道才坊 / これに懲りよ道才坊

Korenikoriyodousaibou

Behold!, Learn by experience, moral teachings, by hitting a boy down an old road with a stick.

Learn by the rod. People learn by having it beat into them.(!)

9

Su

雀百まで踊り忘れぬ / 雀百まで踊り忘れず

Suzumehyakumadeodoriwasurenu

I remember dancing with 100 sparrows. To the Japanese sparrows have a habit of jumping aimlessly!

What is learned in the cradle is carried to the grave, even bad habits.

9

Se

背に腹は変えられぬ / 背に腹は変えられない

Seniharahakaeraremu

/ Seniharahakaerarenai

Sacrifice the back in favour or the stomach.

"Not able to escape an urgent problem without making some sacrifice." It is better to be stabbed in the back instead of the stomach.

9

Chi / Ji

地獄の沙汰も金次第

Jigokunosatamokaneshidai

Hells instruction, be dependant on money. You can buy anything, even in hell.

"Money is the best lawyer."

10

I

犬も歩けば棒に当たる

Inumoarukebabouniataru

"Even a dog, if it walks, will bump into a pole. No matter what you attempt, tragedy may befall you."

10

Hu / Bu

武士は食わねど高楊枝

ぶしはくわねどたかようじ

Bushihakuwaredotakayouji

"A samurai, even when he has not eaten, uses a toothpick like a lord." Even in poverty act like you are not. In Japan the use of a toothpick is to indicate you have had a good big meal.

11

Re

れうよく (良薬) は口に苦し

Ryouyakuhakuchininigashi

"Good medicine tastes bitter;  the most helpful advice may be difficult to listen to."

12

Ra

来年の事を言うと鬼が笑う

Rainennokotowoiutoonigawarau

"Talk about next year and the devil will laugh." Be careful when planning for the future as circumstances will foil the best laid plans.

12

So

袖の振り合わせも他生の縁

そでふりあうもたしょうのえん

Sodeburiaumotashounoen

Even chance meetings are forged by destiny.
Hiragana Table - format
The following table is set out in one of the standard hiragana table formats. It won't help you any, but it might get you used to how one of the Japanese scripts is formally layed out. Underneath each card is the character name for each card, the phrase attached to each card and the number of characters the phrase contains.
| | | | | |
| --- | --- | --- | --- | --- |
| | | | | |
| a | i | u | e | o |
| | | | | |
| 8 | 10 | 5 | 4 | 4 |
| | | | | |
| ka | ki | ku | ke | ko |
| | | | | |
| 7 | 9 | 9 | 6 | 9 |
| | | | | |
| sa | shi | su | se | so |
| | | | | |
| 5 | 5 | 9 | 9 | 12 |
| | | | | |
| ta | chi | tsu | te | to |
| | | | | |
| 5 | 8 | 7 | 5 | 7 |
| | | | | |
| na | ni | nu | ne | no |
| | | | | |
| 5 | 6 | 3 | 4 | 7 |
| | | | | |
| ha | hi | hu | he | ho |
| | | | | |
| 5 | 5 | 11 | 6 | 6 |
| | | | | |
| ma | mi | mu | me | mo |
| | | | | |
| 6 | 6 | 4 | 6 | 7 |
| | | | | |
| ya | | yu | | yo |
| | | | | |
| 4 | | 4 | | 8 |
| | | | | |
| ra | ri | ru | re | ro |
| | | | | |
| 12 | 7 | 8 | 11 | 5 |
| | | | | |
| wa | wi | | we | wo |
| | | | | |
| 8 | 8 | | 7 | 4 |
| | | | | |
| n | | | | |
| | | | | |
Credits
Sources